Main content starts here, tab to start navigating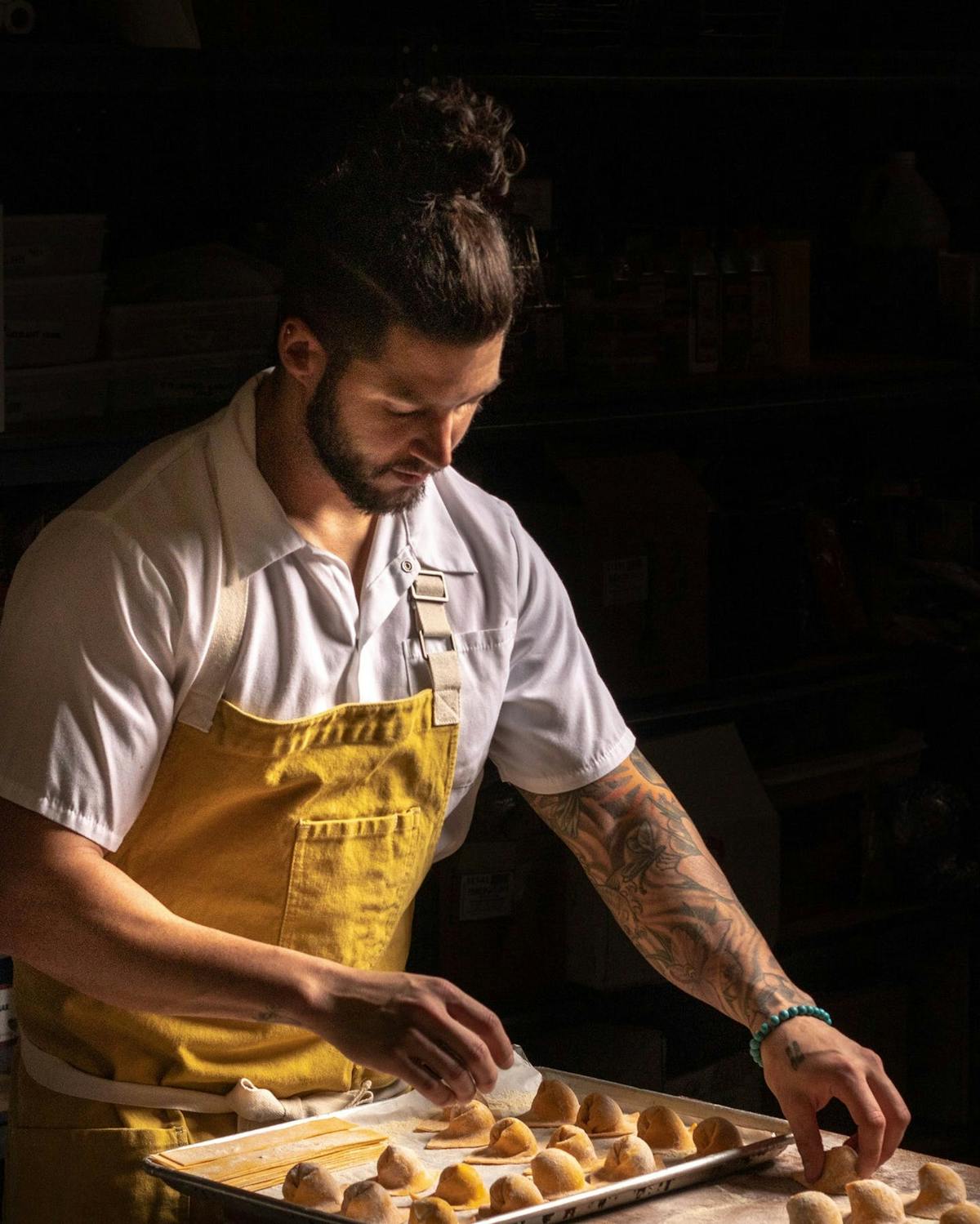 Robbie Felice
Chef-Owner
Chef Robbie Felice has been in restaurants since before he could walk. His father, Joe Felice had owned multiple restaurants during the course of his childhood. After a childhood surrounded by the industry, he was accepted into the Culinary Institute of America where he graduated with an associate degree in 2011. Shortly following his graduation, he put in multiple years of work between the legendary Babbo in New York City and B&B Ristorante in Las Vegas, where he became Sous Chef along with running the Salumi Program at the Company's many Las Vegas locations.
He also worked in several other restaurants across the country. Hungry for more, he put in numerous stages at Michelin-starred restaurants across the globe; including Sergio Herman's 2-Michelin-Star Pure-C in The Netherlands and 2-Michelin-Star The Jane in Belgium. From there he traveled throughout Europe, touching France, The UK, Italy, and Spain where he was exposed to various cultures and cuisines, refined his technique, and forged his own unique signature and style. Robbie landed back in New York City in 2015, joining 2-Michelin-Star The Modern.
Felice was able to transform the lessons and experiences he learned from an early point in his career into his own culinary success. In 2016, at just 26 years of age, Felice and his father decided to open their first restaurant together, birthing Viaggio Ristorante in Wayne, New Jersey. In his pursuit of authenticity, Felice unveiled a restaurant true to his cooking philosophy— locally sourced ingredients used to create traditional Italian fare with a modern touch.
Viaggio earned him a spot on NJ Monthly's 30 Best Restaurants in New Jersey, NJ Monthly's Talent on the Rise, The Record's 17 People to Watch in 2017, and two 3 ½ star reviews from both The Record and New Jersey's largest publication, The Star-Ledger. A multitude of accolades paved the way for Robbie to open his second restaurant, Osteria Crescendo in 2019 at just 28 years old where he specializes in large-scale "for the table" entrees, and Italian street food at its bar. After five short months, Osteria Crescendo joined Viaggio with a spot on NJ Monthly's 30 Best Restaurants in New Jersey, making him one of two chefs in the state to have two spots on the list. Osteria Crescendo brought Felice a glowing review from North Jersey Media Head Food Editor, Esther Davidowitz, where she referred to him as a "Culinary Superstar".
Multiple James Beard House appearances, including a solo dinner on August 19th, 2019, a nomination for Eater Young Guns 2020, being named New Jersey's Industry Chef of the Year, and finally receiving recognition as one of the most important people of the past decade in the New Jersey restaurant scene by northjersey.com. His food is described as taking modern spins on the classics, and it has done anything but fail to date. Felice keeps a strong social media presence and continues to use everything he has been taught to his own advantage. Never settling for the minimum has been his career outline thus far, and his strive to be the best he can be has cemented him as one of the great chefs in not just New Jersey, but the entire country.
– Written by Peter Candia